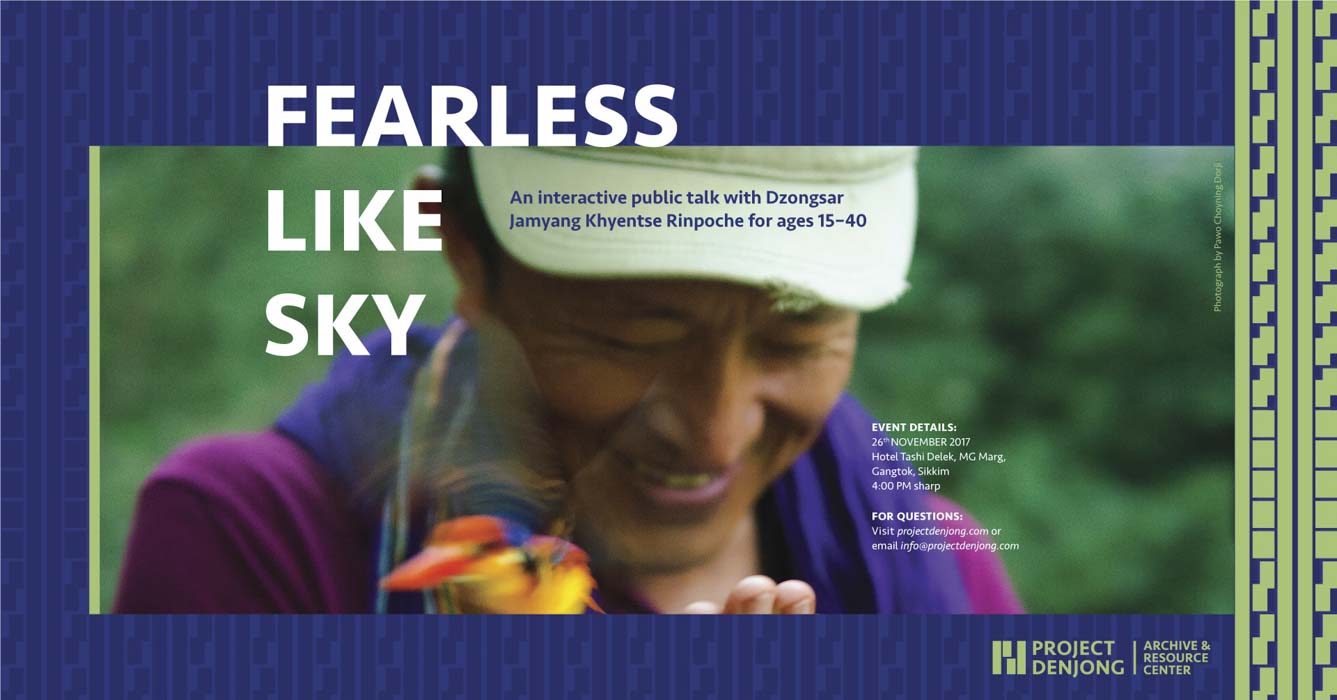 06 Nov

Fearless Like Sky

Ever think that in order for Buddhism to have survived for over 2500 years, and to have spread far across the world, that there must be something more to it than only the ritual practices we see around us, and which we rarely understand?

Project Denjong is pleased to host Dzongsar Jamyang Khyentse Rinpoche in Gangtok, for an interactive session for those between the ages of 15 – 40 only.

Date: 26th November, 2017

Time: 4pm – 6pm

Venue: Hotel Tashi Delek, MG Marg, Gangtok (Sikkim)

ABOUT DZONGSAR KHYENTSE RINPOCHE
Dzongsar Khyentse Rinpoche is a highly trained Buddhist philosophy teacher. He graduated from schools in India and Europe, and has studied with some of the leading Tibetan Buddhist masters of the 20th century.

Rinpoche has written several books on following the Buddhist path in the contemporary world, and has directed several award-winning feature films including, The Cup, Travellers and Magicians, Vara: A Blessing, and Hema Hema.

PLEASE NOTE:
We ask that everyone please respect the age bracket so that Rinpoche may be able to tailor his talk to the age group that holds the most potential for continuing this wisdom legacy, and to allow the participants to feel more comfortable interacting with him, free of the constraints of social hierarchy.

PROJECT DENJONG
Project Denjong is community of thought that aspires to redefine our relationships with our communities, our cultures, and our landscapes. We host a non-profit collection of initiatives focused on facilitating scholarship and encouraging creativity to restore a sense of collective ownership in heritage preservation. We invest in people, in creativity, and in education—in the revitalization rather than the memorialization of Sikkim's rich history— to ensure that our wisdom traditions continue to be an integral, living part of our contemporary identity. Through this programme, Project Denjong aspires to reignite genuine interest in our wisdom heritage and rebuild the intellectual lineage of the guru-disciple tradition. Our only intention is to provide opportunities that inspires your own intellectual and spiritual journey.