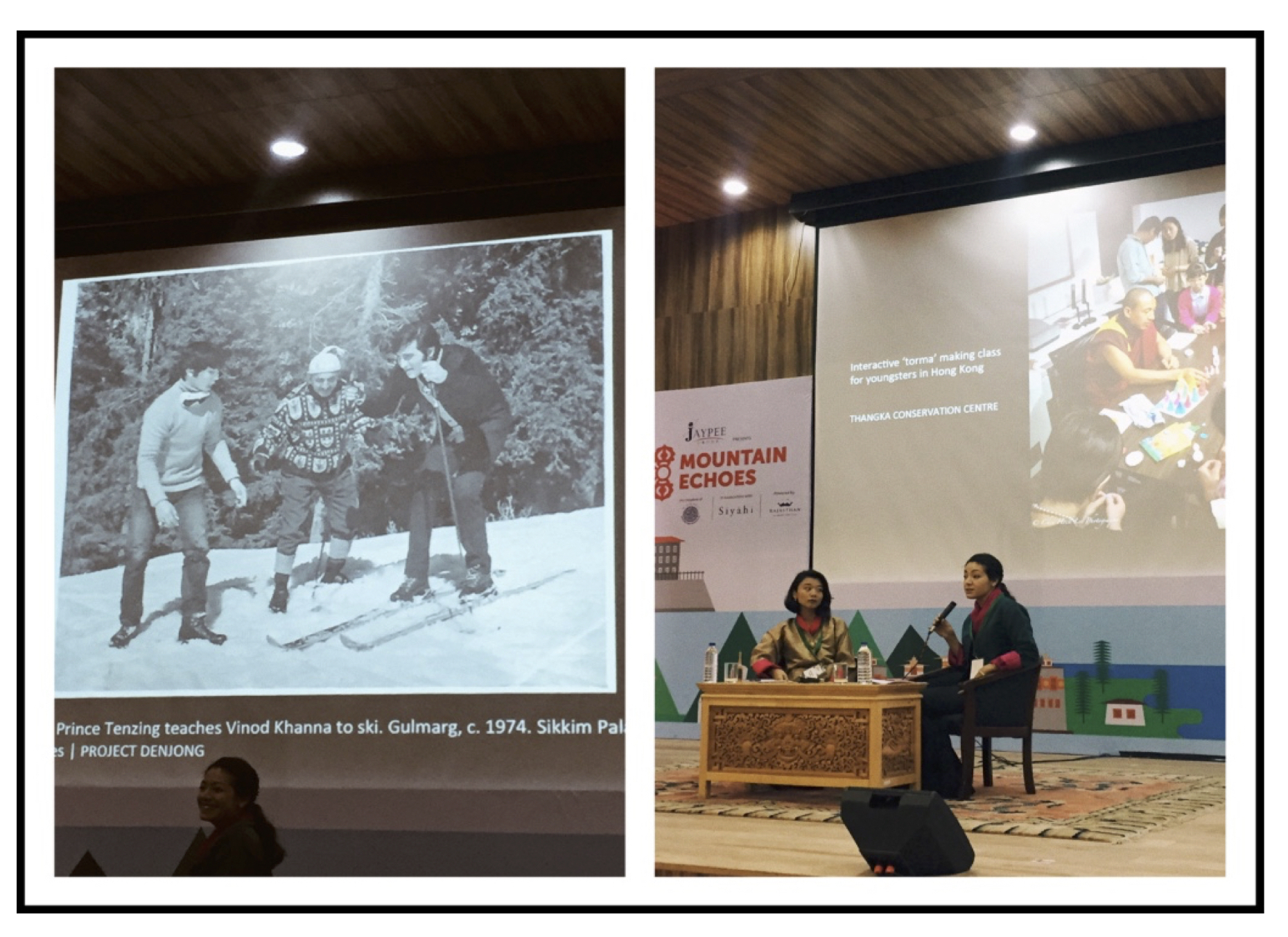 09 Sep

INSPIRE DEVELOPMENT | Photo Reflections

With the generosity of over 20 individual donors from the UK, the US, India, and Thailand, last month five young Sikkimese stepped outside their comfort zone to volunteer at the 8th edition of The Mountain Echoes Festival of Culture and Literature in Bhutan, as a part of our Inspire Development (ID) Initiative. Upon their return, we asked them to produce creative reflections on their experience, and we'd like to share a few of them here with you!

By Rinchen Ongmu Bhutia

Having completed an arduous year of dissertation writing, I found myself in a strange place. No deadlines, no late nights, only free time to kill and catch up on sleep. It was just another one of those mindless sessions of scrolling through the black hole that consumes us all. Something caught my eye. I paused, read through it, and without thinking twice, decided to apply. The Project Denjong handle had posted a notification on Instagram about hiring volunteers for a literary festival in Thimphu, the Mountain Echoes Festival. One of the listed fields of work was documentation, photography and social media. I knew I had to write to them instantly before procrastination (read: sheer laziness) got the better of me. I am mentally patting myself on the back as I type this because it was undoubtedly one of the best decisions I have made in a long time. Pat on the back because, again, human sloths are real!

We arrived into Thimphu after five hours of journeying through winding roads in the beautiful hills under clear, starry skies accompanied by occasional bouts of synchronised choir-like melodious sessions. Dathup, the perpetual brooder, member of Project Denjong, was responsible for the travel, accommodation, and for the group of volunteers in general. Unsurprisingly, he didn't doze off like the rest of us through the dense fog and mist. Gaychen was well equipped and brought out her trusty speakers after which we never stopped singing.

Kursong's request for The Beatles took us "Across the Universe" and boy did we enjoy a "Hard Day's Night" (immigration took us an entire day at Phuentsholing)! Aie Hishey was her usual quiet self. Safe to say, the five of us made a perfect group.

In Thimphu, we were hosted at Damchoe's Homestay, a charming private property run by Aunty Damchoe. A quick drive away from the main city and a few uphill roads later, we were transported to another dimension, surrounded by lush greenery overlooking the Wang Chhuu through dreamy patterns of cypress trees and assorted shades of purple from hydrangea shrubs.

Copious amounts of suja (butter tea) coupled with traditional snacks and freshly plucked apples were relished many times in the wooden gazebo.

On the following day, we met with Juhi (coordinator) at the main Festival venue (Royal University of Bhutan), and were assigned various tasks for the three days of Mountain Echoes. The rest of the day was spent exploring Thimphu's handicraft shops and indulging in Bhutanese cuisine.

The eighth edition of Mountain Echoes literary festival was held from August 25-27. It brought together writers, scholars, photographers, artists, poets, musicians, historians, environmentalists, filmmakers and creative practitioners through conversations, workshops and story-telling at three different venues simultaneously. We were allotted tasks at the Royal University of Bhutan where visitors were presented with most of the discussions and stories, from far and near. This carnival of culture and literature incorporated a multitude of ideas and themes that had something for everyone who attended it.

The illustrious line up saw famed personalities traveling all the way to the Land of the Thunder Dragon. Shashi Tharoor, Ruskin Bond, Markus Zusak, Imtiaz Ali, Padma Lakshmi, Barkha Dutt and the patron of the festival herself, The Royal Queen Mother Ashi Dorji Wangmo Wangchuk, delighted the audience with fascinating sessions. Day one focused more on Bhutan's cultural and spiritual history. Ashi Dorji Wangmo Wangchuk spoke of the legacy of the Zhabdrung, while Pawo Choyning Dorji narrated the life story of Terton Pema Lingpa, replete with photographs from his travels to the various sites of significance across Bhutan, Nepal and India. Authors from India like Ashwin Sanghi and the Australian author Markus Zusak also shared their stories with the audience. Bhutanese and Indian designers showcased their designs and collections alongside a panel discussion on sustainable fashion.

Working to document, to photograph, and to post updates on social media from the festival induced me to listen and observe more intently than I would have. After each day's sessions, I was sure I had learnt a week's worth of lessons. When we found time for ourselves, we were in the Library Reading room, taking powernaps, reading books, or making portraits.

Day two saw the launch of two books, "India's Indira" and "Home Shangri-la". Shashi Tharoor was his usual brilliant self and spoke on India's experience as a colony of the British Empire, attempting to redress the imbalances in the Euro-centric narrative of Indian history. Another stunning talk was delivered by Devdutt Pattanaik on "Seeking the Dharma", where he engaged the audience by drawing parallels between Hinduism and Buddhism. Pattanaik started his talk with the ironic meaning of "Devdutt" in the context of Buddhism and went on to talk about "samavaad", of harmony, while lightly adding that "vivaad" or argumentation be left to the television media, many of whom were seated in the audience. He ended the session with "The Jungle Law", featuring an illustration of three fish, representing how the mighty eat the meek. He said, in Dhamma, the privileged enabled the meek. The day ended with a session by India's most loved author, Ruskin Bond, who spoke of his life experiences, his books and his upcoming works. The sweet old man seemed to have not aged one bit since the last time I spotted him at the chaar-dukan in Landour, Mussoorie. Book signings were routinely held after every session and school children lined up in hoards around their beloved author.

The final day of the festival saw writers giving lectures on a host of topics ranging from spirituality and magic, to culinary adventures by the mistress of spices, Padma Lakshmi. The highlight of the day for me was the session on "Virtual Memory: Digitizing the Past". Ashi Kesang C T, director and art restorer at the Thangka Conservation Centre in Bhutan was in conversation with Pema Abrahams, Founder/Director of Project Denjong in Sikkim. As a Sikkimese and as someone who increasingly values cultural heritage preservation, this discussion resonated greatly with me.

The most memorable takeaway for me from the festival cannot be narrowed down to one particular session or meeting. Looking back, the festival entailed an experience on a larger, yet personal scale.

Everything came together. The offstage interactive session with Congress MP, Dr. Tharoor, who had just spoken to a packed auditorium on historical vacuum in the context of British colonialism, was intellectually stimulating. "If you don't know where you've come from, how will you know where you're going? …..History is its own revenge", he had said. This rang true for me in terms of Sikkim's documented history (or lack thereof). It wasn't fate that I was there with Project Denjong, a team that works tirelessly to catalogue, digitise and archive documents from Sikkim's history.